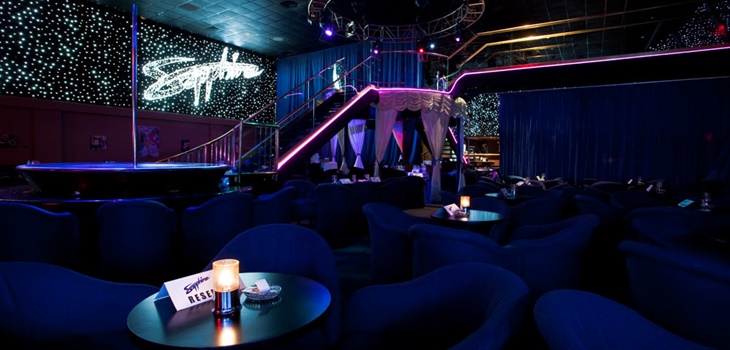 Sapphire Las Vegas Gentlemen's Club is one of the largest in the world. It's also known around the world, having earned the title of 'Best Gentlemen's Club' by the Las Vegas Review Journal as well as 'Best Bachelor Party'. More than just a strip club, Sapphire offers an exclusive evening of entertainment, VIP services, and parties that never stop. Sapphire in Las Vegas is open 24 hours a day, 7 days a week and can accommodate groups of all sizes for bachelor parties, bachelorette parties, birthday parties, or just a guys' night out. You can also come solo if you'd like.
The topless club spans more than 70,000 square feet and features more than 400 dancers nightly. You'll also discover one-of- a-kind events, premium alcohol and cigars, and a modern design that attracts the eye. Go on a good night and you might even see the rich and famous hanging out. In fact, Sapphire has hosted more than 250 celebrities including notable names like Katy Perry, Rihanna, Criss Angel, Flo-rida, Jenny McCarthy, Pamela Anderson, and Seth Green. While you may have visited strip clubs in the past, you've likely never seen a club of this magnitude.
When you arrive to Sapphire you'll find three stages in the main room which includes the Sky Stage along with a transparent catwalk to the Skyboxes. If you want access to the best seating in the club you'll want to go to the Rockstar Lounge which is located beneath the clear Sky Stage. The second floor overlooks the main room and contains the famous Skyboxes. These areas of the club provide privacy and intimacy along with other perks like flat screen TVs, a private bar, and plush seating. Inside the VIP rooms you can have one-on- one experiences with the beautiful dancers. There is also an Off Broadway Show Room where you'll find private events being held.
You'll certainly want to throw back a few drinks during your visit to Sapphire. Fortunately, there are four massive bars through the strip club including the Martini Bar which features a larger martini glass centerpiece, the Off Broadway Show Room Bar, the Peter's Bar, and the Skybox Bar. Each of these bars offers a wide selection of liquors, champagnes, wines, and premium beers. If you plan on drinking during your visit to Sapphire, be sure to secure reliable transportation before your arrival.
The last thing you want to do is show up to a strip club in a taxi. Whether you're traveling with a group or rolling solo, make the splurge on a limousine. Limo service is the ultimate way to get around Las Vegas, especially if you're unfamiliar with the area. With you reserve a limo for your time in Vegas, you'll also receive a dedicated driver who knows the ins and outs of the city, as well as access to a variety of fun amenities like flat screen TVs, mini bars, and mood lighting. It's essentially a party on wheels.
Of course, standard limos are not the only luxury vehicles you'll find available. If you're traveling with a large group of friends, you may want some a bit bigger, such as a stretch limo, a SUV limo, or a Hummer limo. All of these modern vehicles are pristine and equipped with state-of- the-art sound systems. These vehicles can accommodate groups of 20 or more guests, ensuring that you don't have to take separate vehicles when traveling with a large group. You also don't have to worry about getting a designated driver or the stress associated with heavy traffic or finding a place to park. It's no doubt the best way to get to Sapphire.
VIP Limo Packages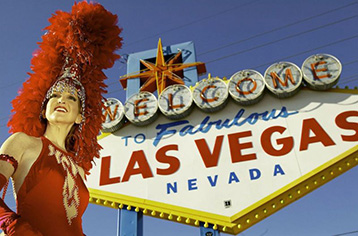 WELCOME SIGN

✔ Pick up from your hotel

✔ Two hours Las Vegas strip tour

✔ Welcome sign photo stop

✔ Drop off to your hotel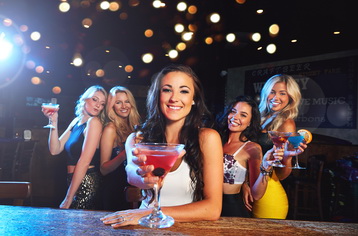 BACHELORETTE PARTY

✔ Pick up from your hotel

✔ Hummer Limo Transportation

✔ VIP entry to 3 nightclubs

✔ No Line, No Cover, Gratuity Included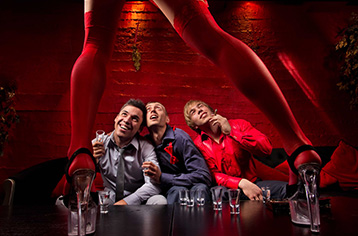 STRIP CLUB TOUR

✔ 4 hour SUV Limo Charter

✔ VIP entry to Nightclub

✔ VIP entry to Strip Club

✔ No Line, No Cover, Gratuity Included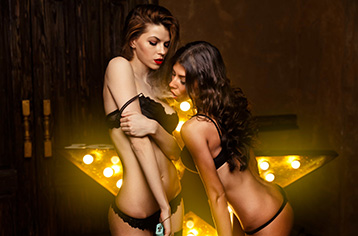 BACHELOR PARTY

✔ Pick up from your hotel

✔ VIP entry to 3 strip clubs

✔ VIP Host

✔ All Inclusive