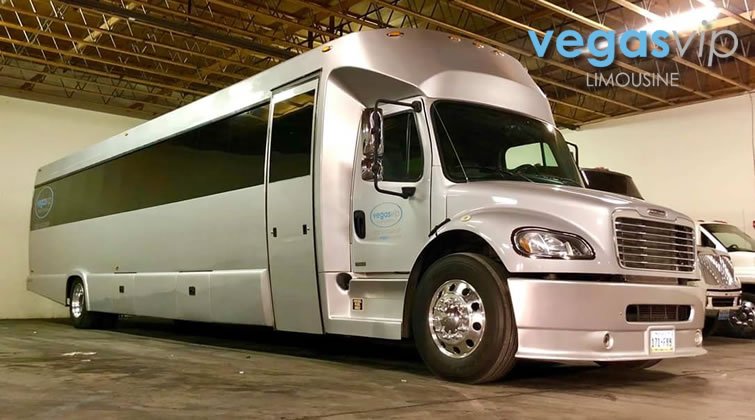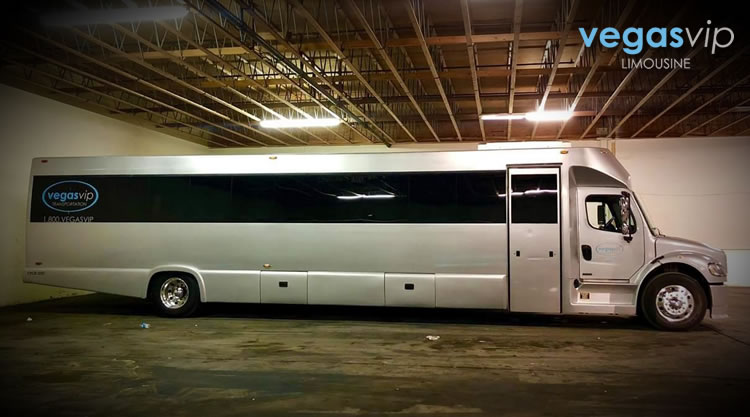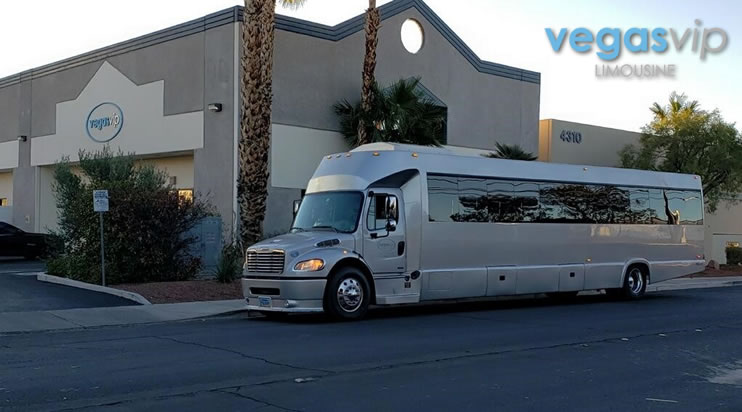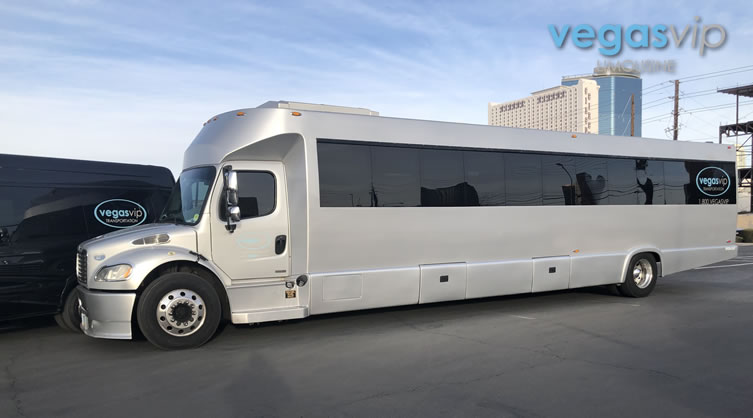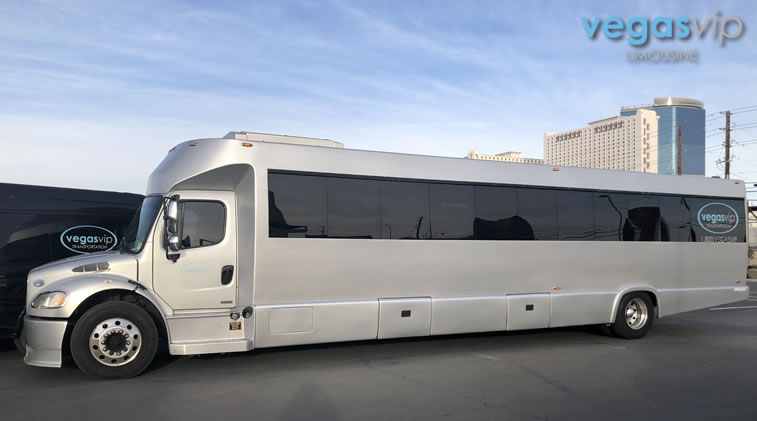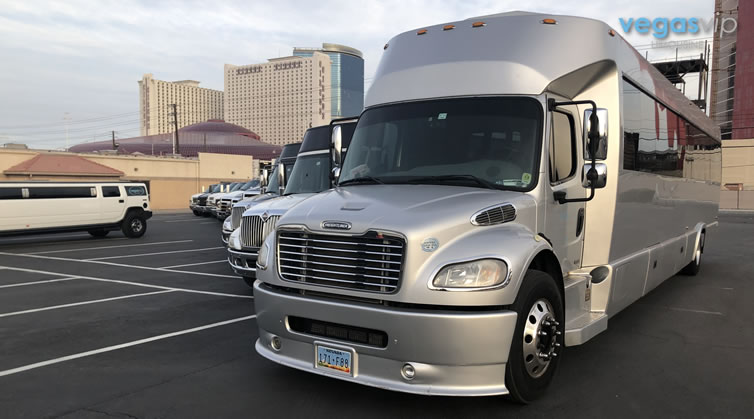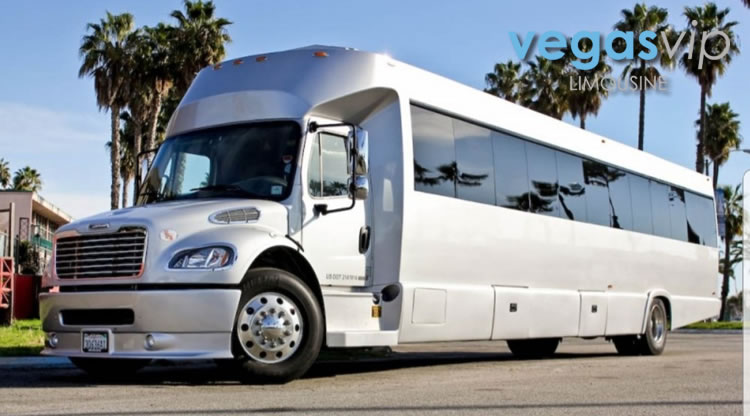 Amenities
-Luggage Capacity: 20
-Long, wide and tall vehicle
-Nightclub-style LED multi-colored lighting
-A dance pole
-Plush leather seating
-Large tinted windows
Stretch Pink Hummer Limo
Most modern vehicles are not equipped to hold dozens of people. The Las Vegas 40 Passenger Limo is the exception. This massive vehicle is the number one choice for large groups who desire comfort, style, and the best amenities. Although the limo has a 40-passenger limit, it can actually accommodate up to 50 passengers if some are children. This oversized vehicle is the perfect solution for all types of events and celebrations, including weddings, birthday parties, bachelor parties, bachelorette parties, and nearly any other occasions you can think of. The vehicle is immaculate both inside and out and contains a wide range of features you won't find in your average car.
When you first see the Las Vegas 40 Passenger Limo, you'll be amazed at its grand size. The extensive vehicle is not only long and wide, it's also tall enough to allow its passenger to stand upright inside. Don't cram your guests into a smaller vehicle when this massive limo has enough space for everyone to remain comfortable. What makes the limo even more unique is that it's been completely customized. The vehicle was created with close attention to detail to ensure that passengers are undeniably satisfied.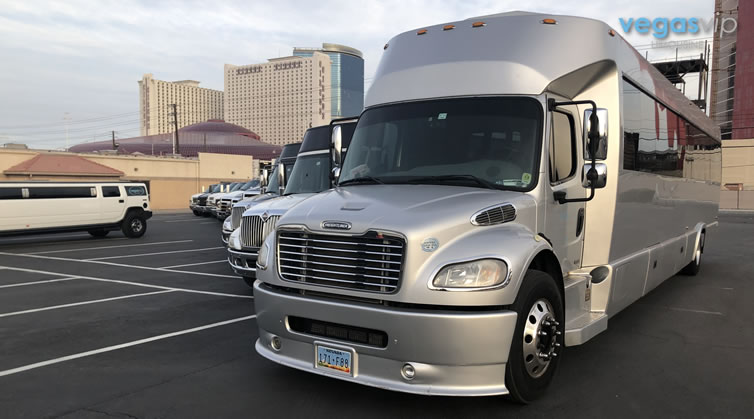 When you step inside the limo, you'll be greeted with nightclub-style LED multi-colored lighting, plush leather seating, large tinted windows, and a dance pole installed in the center of the floor for entertainment. The vehicle is also equipped with a state-of-the-art sound system which sends premium music throughout the length of the limo. Of course, there are also many other great entertainment features to enjoy, including large flat screen TVs and built-in bars. Grab a drink, take a seat, and enjoy the game on the big screen as the driver safely travels to your destination.
You may be asking yourself what makes this 40 Passenger Limo any different than a standard bus. First, it's the stylish look. The outside of the bus is a classic white which gives the illusion that you're a VIP that can afford the very best. The bus also has a wide range of features and amenities you wouldn't find in an ordinary bus, such as leather upholstery, sleek designs, and a heart-thumping sound system that makes the limo feel like a Las Vegas club. With its upscale style and fully-equipped interior, the limo for large groups is a great choice for both formal and informal events.
Having a wedding coming up? Choose the Las Vegas 40 Passenger Limo as your transportation of choice. When you host an event as important as a wedding, you don't want any aspect of your day going to chance. When you reserve a Las Vegas limo, you can rest assured that it will arrive to your location at the scheduled time and be available for as long as you need it. You can also maintain peace of mind that there is an experienced driver behind the wheel that knows the Las Vegas area well and can get you to your wedding and reception on time.
If you plan on drinking during your event, you don't want to get behind the wheel of a car. You also don't want to wait around for a taxi to show up. A limo can be a great alterative to a designated driver. The Las Vegas 40 Passenger Limo for large groups is also an amazing way to see the sights of Las Vegas from the comfort of a luxury limo. You'll feel like a true rockstar as you relax with all of your closest friends and family in a limo rolling down the Las Vegas Strip.