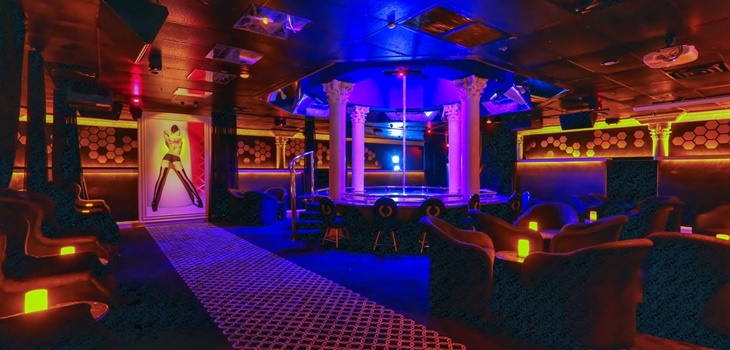 Just minutes from the Las Vegas Strip you'll find the upscale Crazy Horse 3 Gentlemen's Club. The ultra-modern club features over 10,000 square feet of space with hundreds of beautiful girls. Crazy Horse 3 is open round-the- clock for endless entertainment. Inside you'll find 24 giant HD TV screens, surround sound, and 5 private VIP bars and seating – everything you need for a relaxing evening out. The strip club also offers VIP bottle service, late night sushi, hookah, and daily drink specials. If you're looking for the ultimate strip club in Vegas, you've found it.
It isn't always easy finding girls in strip clubs that are your "type". While some strip clubs offer just average looking ladies, others are sometimes too fake. At Crazy Horse 3, you can find women at both spectrums, as well as plenty in between. From the girl next door to the tattooed beauty, there is a diverse selection of beautiful, friendly ladies who know how to entertain. With multiple dancing areas, you can move through the club to find a girl who meshes with your style. There is also plenty of VIP space so that you can get to know her a little better.
Just beyond the foyer you'll arrive to the main room. The main room is home to three separate stages, each with at least one girl performing. As the evening progresses, you'll see that the girls rotate through each stage, giving viewers a chance to find just the right girl for a private lap dance later on. More than just dancing, these girls have tricks up their sleeves. As they work the neon go-go poles, you'll see special effect tricks that will blow your mind. Best of all, the eye-level stages give you an up close view of the action as it happens.
Between the stages is comfy seating. Along the left side you'll find a buffet at select times during the evening. To the right is the bar where you can grab a drink whenever you'd like. Both upstairs and downstairs there are plenty of seats and tables, as well as friendly waitresses who are ready to take your order. If you prefer more privacy, you'll find semi-private rooms in the far left corner. The champagne room is hidden between the semi-private rooms and the buffet. Here you'll find bottle minimums but you'll likely find it's worth the extra cash for privacy, premium alcohol, and some of the best dancers in the club.
When planning your Las Vegas trip, don't forget about your transportation needs. Whether you're heading to Treasures or just to your hotel, you'll want a reliable driver who knows the city and an upscale car you won't be embarrassed to be seen in. A luxury limo rental meets both of these requirements. Have a limo pick you up directly from the airport when you arrive in Vegas, and have it available to bring you to the club and other destinations. It's the ultimate way to treat yourself.
There are numerous benefits to choosing limo service as your mode of transportation. It not only takes the stress off you when trying to determine where to go and how you'll get there, it's also the safer alternative. You won't have to worry about how much you're drinking or about getting lost in Vegas. Your experienced driver will know exactly where to go. You can also host your own pre-party in the limo on your way to the club. With your closest friends in tow, throw back a few drinks and prepare for the night ahead. There's no better way to get to and from Treasures strip club then by limo service.
VIP Limo Packages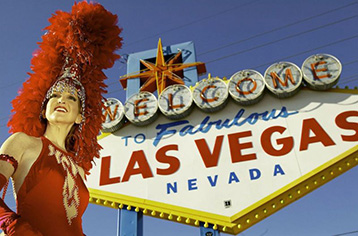 WELCOME SIGN

✔ Pick up from your hotel

✔ Two hours Las Vegas strip tour

✔ Welcome sign photo stop

✔ Drop off to your hotel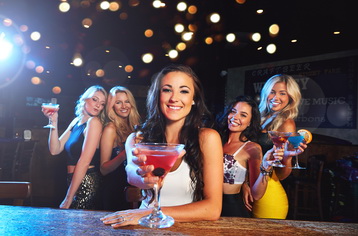 BACHELORETTE PARTY

✔ Pick up from your hotel

✔ Hummer Limo Transportation

✔ VIP entry to 3 nightclubs

✔ No Line, No Cover, Gratuity Included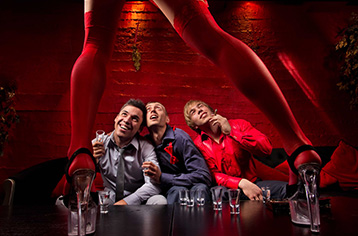 STRIP CLUB TOUR

✔ 4 hour SUV Limo Charter

✔ VIP entry to Nightclub

✔ VIP entry to Strip Club

✔ No Line, No Cover, Gratuity Included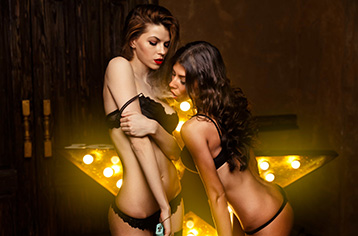 BACHELOR PARTY

✔ Pick up from your hotel

✔ VIP entry to 3 strip clubs

✔ VIP Host

✔ All Inclusive