Through all the planning and headaches that come with a wedding, it's important not to lose sight of the important aspects. Of course, one cannot forget the dress, the venue, or the food - and really, you'd have to be a real dullard to do so. One important aspect of the wedding day that may be a bit easier to forget is something so simple, yet so crucial, that it can easily be left to the last minute. Now that you have the venue booked, how do you plan on actually arriving? In your pristine white dress, chances are you won't want to have to pile into the back of your future father-in-laws dirt-covered pick-up truck. To avoid this ugly scenario, once you know where you need to go, pick up the phone and make sure you'll have something timeless and classic like a limousine scheduled to transport you and, in the process, make you feel like the princess you are.
Classic Transportation for the Classic Bride
Whether you're a strict party girl or you're looking for that high class intimate affair, there is a limo perfect for you. If you're imaging yourself in that perfect white dress, walking down a flower-lined aisle towards your tuxedo-wearing prince charming, than you'll probably want to inquire about a classic black or white stretch limousine. Within the confines of this typical yet timeless vehicle, you'll be treated like the royalty you aim to mimic. With a privacy window and complete control over the cab's key elements, you can ensure the ride before your wedding will be one that could sooth away those cold feet and wedding day jitters. Listen to the music that you want to listen to and sip away at some champagne while you prepare yourself for one of the most important moments in your life. The standard limo comes in stretch and super stretch varieties.
The Party Vessel
If your wedding is going to take on the look and feel of a full on celebration rather then a stiff ceremony, you may want your transport to have a bit more flair than the standard limousine. For the party girl on her way to get hitched, the stretch SUV and stretch Hummer limousines are a bit higher key than their smaller sibling. With capacities that range from 14 to 20 guests (potentially less depending on the size of your dress), the SUV and Hummer limousines are the higher end party transports, with interior specifications that create the look and feel of a mobile VIP lounge. Pulsating fluorescent lighting, a glowing mini-bar, and a fully loaded surround sound system are the perfect accents for the pre-wedding party. You'll want to be somewhat coherent when you're saying your vows, though, so don't down the carafes of liquor that may be provided.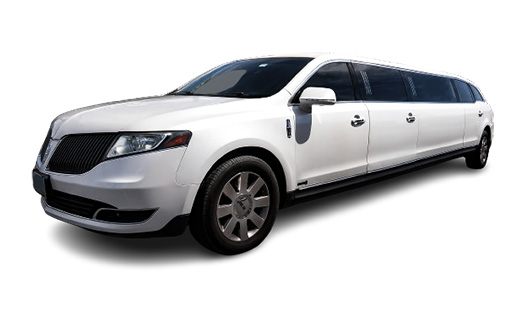 Up to 8 Passenger
Luggage Capacity: 2
book Super Stretch Limo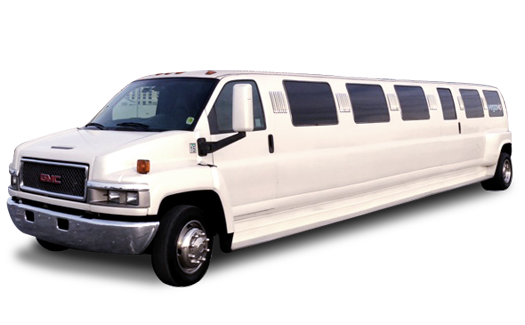 Up to 30 Passenger
Luggage Capacity: 2
book giant limo
Larger Than Life Affairs
Sometimes the decisions you make for your wedding are based solely on the need for space. You choose your venue because it's the only place in town that can house your 400-person long guest list and you wind up going with a party bus to transport your 20 plus bridesmaids.
40 Passenger Wedding Limousine
Coming to Vegas for your or loved ones' wedding and need a super large and cool vehicle for transportation without interrupting your event by dividing guests? Than our 40 passenger wedding bus is a perfect choice for you. You can even fit more guests if you are travelling with kids. You will ensure that you are travelling with the largest limo in Las Vegas ever roamed the strip.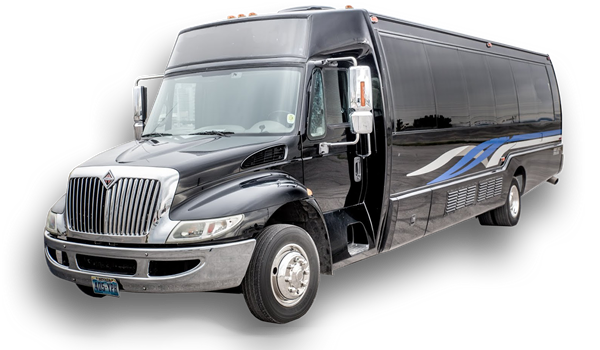 Up to 20 Passenger
Luggage Capacity: 2
book Limo Bus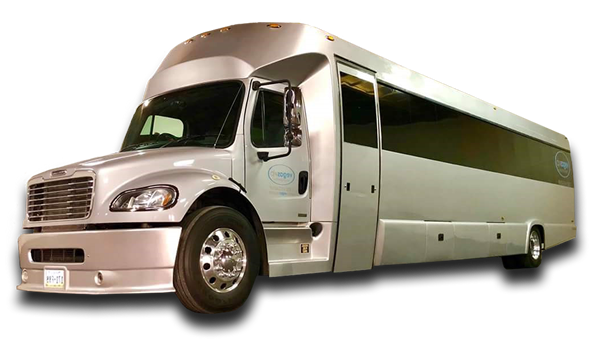 Up to 40 Passenger
Luggage Capacity: 20
BOOK SUPER LARGE PARTY BUS
The name may not sound too extravagant, but the party bus offers the same elegance of, say, an SUV limousine with the space of a yellow mini-bus. On-board, you and your wedding party can groove to the tunes flowing from the surround sound speakers while your on-board bartender works the smaller full-sized bar. Lower key variations of this behemoth are available for those brides that need the space but not the heavy atmosphere.