Party Bus
The perfect club atmosphere on the road
Get a Quote Now
Capacity
Up to 24 passenger
Amenities

Leather Wrap around seatings
32" LCD monitors
DVD, VCR, XM Radio, MP3 Connectivity
Bottoms of seats with fiber piping, Disco Light, Laser Light, Strobe Light
Dynamic AM-FM CD Sound System
Dance Pole
About
Most people would find little need for a bus transformed into a vessel of partying, but with it being Las Vegas and all, just about everything is turned into a party machine. The classic party bus is basically an oversized limousine and provides transportation for you and up to 39 other guests. Whether you're planning a classic affair or a wild night on the town with your fellow ladies, the party bus is perfect for any large gathering. Known for its size and capacity, the party bus really has far more up its sleeve than just elbow room. What makes it the perfect vessel for a wild girl's night out (such as a bachelorette party) is all of the little extras that come with it.
Much like in a stretch / super stretch limousine, the typical party bus will come with a complete surround sound setup. Outside of providing a steady stream of music to turn the bus into a mobile club, the setup is also attached to a DVD player which can add an unusual spin on the nightly events. The ability to utilize your own personal devices like an MP3 player, DVD, or CD allows the drive to be a personalized experience for the guest of honor, be it a bachelorette or a birthday girl.
Even surpassing the overly useful surround sound system is the potential for an on-board mini-bar. Unlike in a limousine, where space can trend on being an issue depending on the crowd, the party bus mini-bar can be exactly that – a small version of a full-sized bar, complete with a bartender. As if that weren't appealing enough, you could expect to be treated to a full bar stocked with your favorite liquors.
To complete the festive atmosphere on the party bus, buses may be rented with on-board stripper poles. While your initial reaction may be to assume that this feature is good for only a bus full of guys and a stripper, keep in mind how entertaining it could be to have a "strip-off". Put your latent abilities to the test and compete with your other guests to see who can work the pole the best. It can also be used as the perfect prelude if your bus happens to be on its way to a Stripper 101 class.
Though the size may be intimidating at first, the party bus is as much a party vessel (if not more of one) as the smaller, quaint stretch limousine. The added features of a stripper pole and better stocked mini-bar really make this mode of transportation far more appealing no matter how many guests you have. Adjustable neon lighting, tinted windows, and a privacy screen all work together to create the perfect club atmosphere on the road. Add in the surround sound system, mini-bar, and stripper pole, and the party bus turns into the ultimate do-all vehicle.
Party Bus Package Deals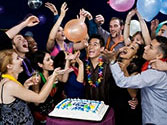 Bachelor Party
Package
4 Hours Party Bus Charter
VIP Entry to Nightclub
VIP Entry to Strip Club
All inclusive
Book or Inquire Now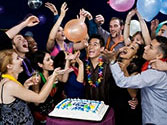 3 Strip Clubs
Package
Party Bus Transportation
VIP Access to 3 Strip Clubs
VIP Entry, No Cover, No Wait
Driver's Tip Included
Book or Inquire Now