Our Fleet
We offer a great selection of limousines in Las Vegas
Popular Limousine
Giant Limo

Though spending a little time in Las Vegas may lead you to believe otherwise, but there is such a thing as overkill - and the Giant Limousine teeters successfully on that border without crossing over. READ MORE

Hummer Limo

You've seen it crossing over rough terrain with ease on the silver screen; you've watched it transform from a military vehicle into a casual car that falls into a category similar to SUVs; and now you can see it stretched to over two times its normal size. READ MORE
You've got everything planned for a night on the Strip, from VIP entry to your favorite nightclub to a place to crash when the party gets to be too much for you. You're bringing along a good number of friends to make sure you're not stuck enjoying the night alone, so you start to think you're ready for the big night out. One day, though, you find yourself thinking about the wild night out and you realize something is amiss – How are you going to get from point A to point B and still be able to drink yourself stupid? Luckily for you, Vegas VIP Transportation is your go-to source for those transportation needs that require a bit more finesse and class.
With a fleet made up of a veritable mix of classic and more modern vehicles, Vegas VIP Transportation is a reliable provider when you're in need of something a bit fancier than your best friends 1999 Volvo. Whether you're looking to ride along the Strip in style or require a vehicle with plenty of space to transport your wedding party from one end of Las Vegas to the next, the staff at Vegas VIP Transportation will be able to fulfill your traveling needs.
Vegas VIP's extensive list of vehicles are perfect for any special occasion, and can seat anywhere from six to 24 of your closest friends and family. Looking through the company's fleet, you'll find yourself having to choose between such classical vehicles as the standard six passenger limousine and the much more extravagant (and rather girly) Pink Hummer Limo. From bachelor / bachelorette parties to formal wedding affairs, you should have no problem finding a vehicle to fit your needs.
Each vehicle offered by Vegas VIP Transportation is top of the line and comes with a professional driver whose only desire is to help make your night a memorable one. On board, you'll find yourself greeted by amenities that serve to amplify the experience. From plush leather seating to floor and ceiling mounted LED lighting, you'll find yourself sucked into your vehicles mobile-party atmosphere. No matter which vehicle you go with, you will have complete control over the sound system. Attached to a state-of-the-art surround sound system, you will be able to pop in your favorite CD or DVD or even hook your MP3 player up for a customized party playlist. Utilize the limo's on-board LED touch screen to customize climate and lighting, turning your choice of vehicle into your own personal haven.
Make the most of your evening by utilizing the services of Vegas' premier transportation company, Vegas VIP Transportation. Choose from any of the expert's 10 vehicle choices to act as the proverbial cherry on top of an already exciting evening. Click on the links in the left sidebar for a complete list of specifications and capacity for each vehicle.
Giant Limo Package Deals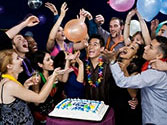 Limo Table
Package
Party Bus fort he Night
Bottle Service at the top club
VIP Entry to top strip club
All Inclusive
Book or Inquire Now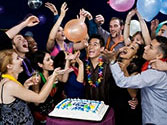 Mobile Nightclub
Package
4 hour Giant Limo Charter
VIP entry into Nightclub
VIP entry into Strip Club
No Line, No Cover, Gratuity Included
Book or Inquire Now